Happy holidays, friends! Today I'm taking you on a tour of our house to show you the festive touches we have added to help our home feel comfortable and cozy during the Christmas season.
2020 has been a really strange year. I'm honestly very thankful that I'm a homebody and love working on my house because we sure had a lot of time for that this year! Maybe it's because I had too much time, but it took me a few weeks to get my holiday decorating just right.
We initially set up the tree near our built-in bookshelves, but after a week I realized it just wasn't working. I needed something different and decided to move the tree by the front window…and rearrange the living room in the process!
It was just what we needed to shake things up and create an extra cozy seating area near the fireplace.
In the entryway, I put my mercury glass trees in a tray on top of our bar cart. I also decided to hang our stockings on our coat rack, instead of the fireplace. And since I was on a big garland making kick a week or so ago, I decided to make a small garland just for the stockings.
Our Christmas tree is a fresh cut Noble Fir we purchased at Costco the day after Thanksgiving. I love the smell of fresh trees so much that it almost makes the hassle of wrestling it into a stand and putting on the lights worth it.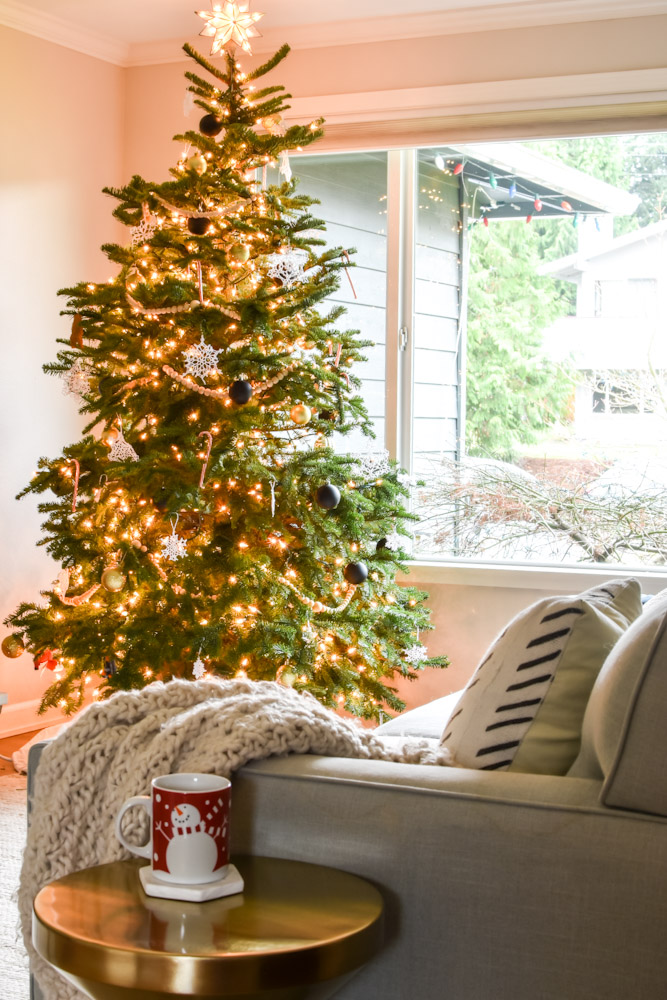 To keep things interesting, I put our tree in a large black ceramic pot, instead of the usual tree stand. I love the way the matte black looks against the tree, but it was a bear to make this work. I had to stuff the base with floral foam, water bottles, and milk cartons just to give the tree enough support to stand up.
The ornaments are a mixture of hand made crocheted snowflakes (made by a sweet lady on our local Buy Nothing Group), black and gold shatterproof ornaments, and natural wood bead garlands I DIY'd this year.
Plus candy canes. Because no tree is complete without candy canes.
Our stockings are all handmade by my mother-in-law and are such a special item to display.
For the fireplace, I repurposed some decorative glass balls I found in my mom's attic. They were originally used at my brother's wedding and I'm so happy to have found another use for them!
I took off the wire around the neck of the globe and wound fairy lights around the garland and inside each ball. The lights have a small remote to turn them on/off and the glow they give off at night is just magical.
The garland is another DIY using fresh greenery and floral wire wound around each branch. If you have access to greenery, it's such a fun way to make the house feel festive.
The bookshelves got a mix of black metal, wood, pinecones, and glass.
The wood nativity was handmade for my parents years ago. It's half puzzle, half decoration since all the pieces fit inside the wood stable.
In the family room, I kept it simple by adding the brass deer I found on eBay a few years ago. They feel very fun and mid-century on top of our vintage dresser turned tv console.
In my daughters's room, I added a fluffy white feather wreath to her glass door, a few crocheted snowflakes to her small Christmas tree, and two silver deer on the wicker tray.
My son's room already has a few touches of red, so it's pretty fun to play that up for Christmas. He decorated his little faux tree himself with a strand of LED ball lights, soft mushroom ornaments, and bells.
The kitchen window got the fresh garland treatment as well. The greenery smells so good and I love how much more enjoyable it is to do dishes with this view.
And back to the couch again. Now, who's ready for some hot cocoa and marshmallows? (I am!!)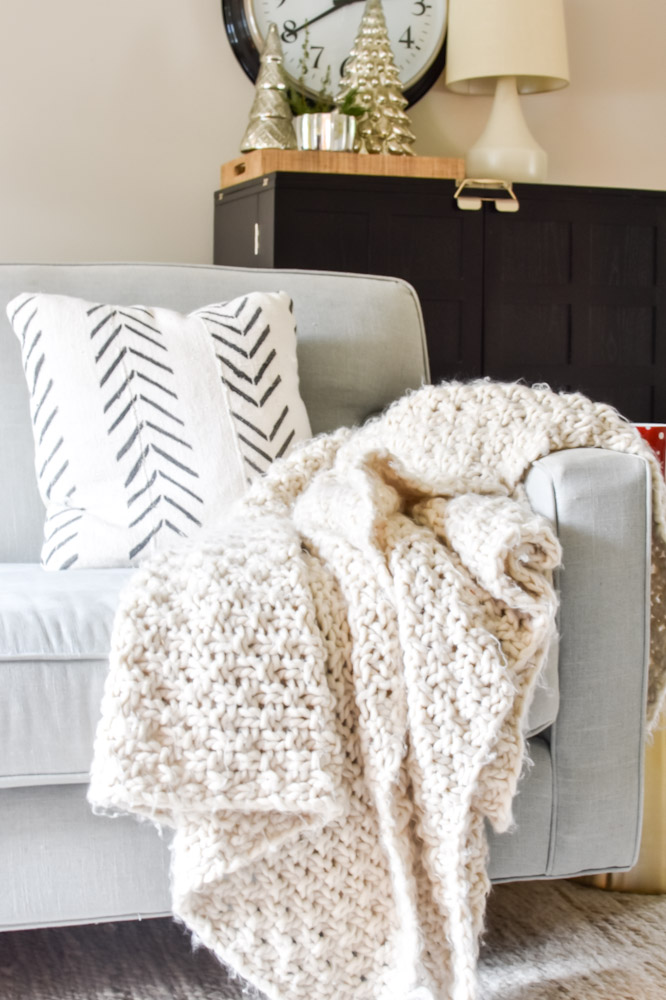 Wishing you a safe and healthy holiday season.
0