There always comes a sad day after Christmas when you realize the holiday decorations have become stale. The fresh garlands are looking brittle, the decor is tired, and the house is feeling cluttered. As the calendar turns to a new year and you start to look ahead, it's time to pack up Christmas and strip down your decor so your home can breathe and feel fresh for the new year.
But where do you start? Packing up and storing all those decorations can seem like a daunting challenge. If you break it down into a few steps and make sure you have the right supplies, you'll find the process can be efficient and painless.
This post contains affiliate links. As an Amazon Associate, I earn from qualified purchases.
Step 1: Start With The Right Mindset
Take a few minutes to think about your future self (11 months from now). What will you be excited to take out of the Christmas bins? How can you make it easier when the time comes? I guarantee it's not going to be detangling lights or sorting through six unlabeled storage boxes.
Instead, ask yourself a few questions:
Are there any decorations you didn't use this year? Why?
What did you love this year? What brought back memories?
Which items brought the most joy to your family?
Did you find anything annoying to store?
Was anything broken, worn, or tired-looking?
Thinking through these questions will help you identify which items mean something to you and which don't. Just because you've always put up a decoration, doesn't mean you need to keep it. Sometimes our style evolves or our lifestyle changes. Now is the time to let go of the items that no longer serve you or bring you joy.
Step 2: Gather ALL Decorations And Storage Supplies
Yes, everything! Run around your house and grab all decor, holiday dishes, wreaths, garlands, candles, etc. I like to bring them to one central area (like the living room) so I can see everything at once.
Grab your storage containers or invest in some new ones. I highly recommend plastic storage containers since they are sturdy, waterproof, and stackable. They are 100% worth the investment in order to properly protect and store your holiday decorations.
If you are in need of new bins, January is the best time to stock up. Stores carry a large selection and run great sales right after Christmas. This is also the only time of the year that you will find red and green bins if you are looking for holiday colors.
A word to the wise…when you invest in containers, try to buy enough so that you can store all your decor in matching containers. Anytime you can match all your containers it elevates the look of your organization and is instantly more pleasing to the eye.
Step 3: Sort
If you are sitting in a scary large pile of decor, don't panic! Take a few breaths and begin to sort by type or by room.
For example, you may want to group all items used to decorate a particular room, say a bedroom or the dining room, in one bin. This makes it a breeze next year to take the bin to that room and decorate without having to run all over your house.
The other option is to group by type of item. You would place all tabletop trees in one bin, dishes in another, pillows in another, and so on. This allows for easy labeling and finding of specific items.
Step 4: Protect and Pack
It's time to pack your items away. But first, make sure you have the supplies to protect your belongings. Extra tissue paper, bubble wrap, paper towels, and ziplock bags all come in handy.
Christmas Decoration Storage and Organization Tips By Decor Type:
Tabletop decor: Wrap in bubble wrap if breakable. If not, simply place it in the bin. If you have holiday table linens, towels, or napkins, these can be used to wrap delicate items. This prevents scratches and helps you store both items in minimal space.
Candles: Wrap with paper towels or wax paper and place in ziplock bags in case they melt during storage.
Mugs and tableware: To save space, take items out of the boxes they come in. Then wrap with tissue paper, bubble wrap, or napkins placed between each plate or cup and stack in the bin. This saves a tremendous amount of space and still keeps your items protected.
Delicate items: Reuse those holiday cookie tins to protect these items from being crushed or bent.
Shatterproof ornaments: Group by color in a shallow plastic bin. The bins can be stacked within a larger bin and make decorating the tree next year a snap.
bin source – non-affiliate link
Glass, breakable, or sentimental ornaments should be protected for storage. You can keep them in their original cardboard container or place them in an ornament organizer with padding if needed. I often use paper towels or tissue paper.
bin source – non-affiliate link
Ornament organizers are a helpful investment. Look for a style that has separate layers that can be individually removed. Cardboard dividers are preferred, as they provide flexible compartments to fit different sized ornaments.
It can be tricky to find the Snapware bins. Here is a similar 3 in 1 ornament organizer from Amazon (affiliate link).
Christmas lights: Wrap each strand around a plastic reel or cardboard rectangle. Plug the ends of the strands together to prevent tangling in storage.
And then place in plastic bins for storage.
similar Christmas light storage system (amazon affiliate link)
Christmas books: Since these can get heavy, use a smaller plastic bin to prevent overstuffing and keep the books protected.
Tabletop trees: I make sure to only buy trees that will fit in a bin. If it can't fit, it's not worth keeping. Glass mercury trees are wrapped in protective packing paper and placed at the bottom. Unbreakable faux trees are stored on top.
Wreaths: Place near the top of your bin to prevent the item from being crushed. I don't buy special wreath bins, since they are tricky to store. Instead, I only keep wreaths that will fit in my Christmas bins.
Step 5: Label And Store Your Bins
Labels provide an easy way to quickly identify what's inside each bin or box. This can be a general category like "Christmas" or more specific, like "Ornamets" or "Tree".
I like to use my Brother P-Touch label maker with black on white tape. Not only is it quick to create a label, it's battery-powered and can be used anywhere. Even up in an attic.
This label tape is easy to pull off if you need to re-label a bin. And it is usually still sticky enough to reattach to another bin if you need to reuse it. Make sure to use a large font so it's easy to read from a distance.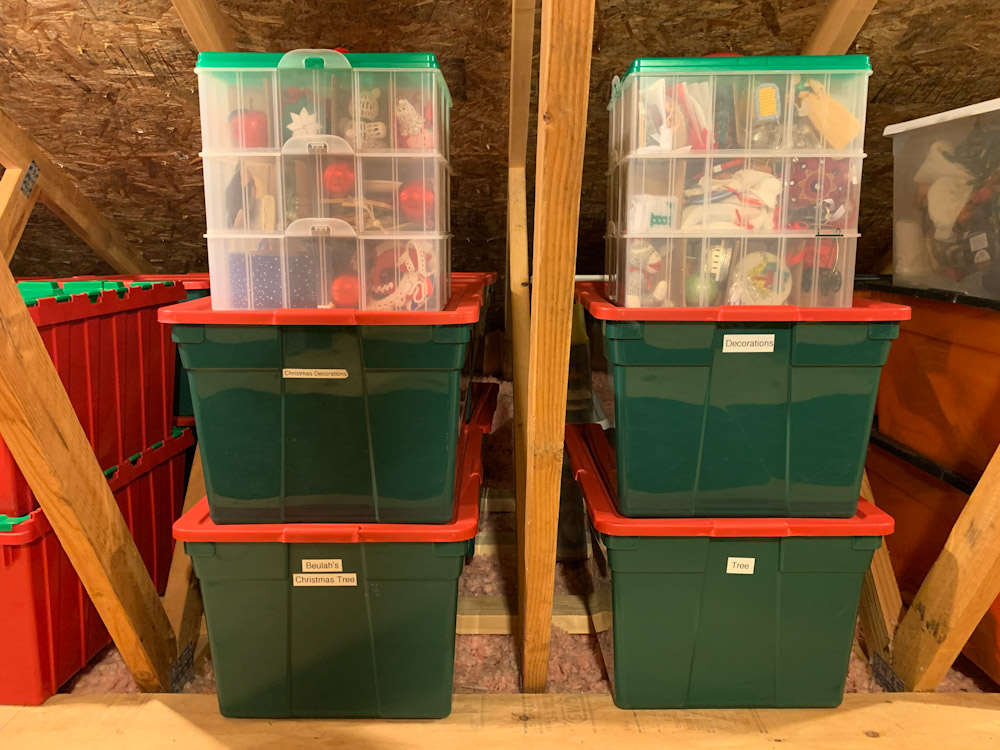 Bins can be stacked in an attic, garage, basement, or closet. It's important to make sure they are kept away from water and excessive heat or freezing temperatures to ensure your items remain in good condition.
Extra Credit – Start a New Tradition
Do you want to make unpacking your decorations extra special? Adopt a tradition that brings joy to your family and celebrates the memories that make each year special. Here are a few of my favorite ideas:
Write a special message to your child in a Christmas book. My mom wrote to my brother and me each Christmas and now the books are a treasured part of my holidays. Reading them to my own children brings back such good memories and provides a special connection to the past.
Pick out a new ornament each year that has personal meaning to your family. It could be from a special vacation, a new pet, a photo, or even a silly inside joke.
Keep an envelope that holds your past family Christmas cards. Each year you can look through the photos to see how your family has grown and changed.
Write a letter to your future self detailing the major events from the prior year and expressing your hopes and dreams for the following year. (via the Christy Wright Podcast)
Well, if you've made it through this entire post, congratulations! Hopefully, you have some new ideas for organizing your holiday decorations and feel empowered to tackle this project.
Packing up Christmas is a lot of work, but knowing that your sentimental items are organized and packed away safely for next year will provide you with peace of mind from now until next Christmas.
Are you on Instagram or Facebook? I'd love to connect! Find me on Instagram @smallishhome and Facebook @smallishhome
0