Today is part 2 of my laundry room reveal where I'm sharing all about how I organized my new deep laundry cabinet to maximize storage space and consolidate all my cleaning and laundry supplies into one easy to use cabinet.
Be sure to check out Part 1 of the reveal to see how this small space was transformed from a blah basement laundry room to a light, bright mudroom/laundry combo.
Small Laundry Room and Mudroom Reveal!
Now for the fun part of this renovation – organization!
As you may have seen in the before pictures, this room had zero storage. Like, no cabinets, no shelves, nothing. I knew I needed to add something to the space, ideally to store cleaning products, laundry soap, laundry baskets, etc.
The space was challenging to work with. The walls and ceilings had lots of bump outs that made it difficult to add upper cabinets, so I changed up my plan and went with a tall pantry style cabinet from IKEA.
What I love about this cabinet is that I can add lots of shelves (more shelves = more storage) and the doors have those nice soft-close hinges.
All this storage space made the organizing a breeze. I found I had plenty of room for all my cleaning supplies as well as my party supplies. Take a look!
This whole space just makes me so happy.
Here's the play by play of how I organized this deep laundry cabinet as well as a few tips and tricks to help you organize your laundry room too!
Consolidate and sort your items
The first step in any organizational project is to consolidate similar items so you can see exactly what you have. This means taking everything out of cupboards, drawers and closets.
For me, that took some time since my cleaning supplies were all over the house. I knew I wanted to streamline and minimize my cleaning items, but to do that I needed to round every last item up so I could see everything I had.
Let me tell you, it was a lot. I think I had been hoarding cleaning supplies from the pandemic (remember those days?) and it was time to purge.
I started by sorting everything by use: laundry related, cleaning solutions, soaps, brushes, sponges, dusters, etc.
Then once I had my sorted groupings, I went through and put everything I knew I didn't want anymore in a box marked donate. This left everything I wanted to keep sorted by groups, ready for selecting the right size of container to hold the items.
Select your containers
For this project, I was able to re-use my Multipurpose Bins from The Container Storethat were already being used to organize cleaning supplies. I needed some more containers, so I decided to pick up two of The Home Edit 5 Piece Laundry Edit at Walmart as well as two sets of woven baskets. I love that these are high quality and budget friendly!
When selecting organizational containers for cleaning supplies, I look for the following:
1) high quality, sturdy materials that can hold large and heavy jugs (like bleach and vinegar)
2) straight sides (no curves!) to maximize storage and keep things upright
2) easy clean materials, like plastic or glass
This ensures that the items are stored safely and cleanly.
Labels
You know how much I love my favorite label maker, but for this project I decided to try something different and buy a huge pack of pre-printed sticker style labels from Amazon. I've been wanting to try these for a while and this seemed like the perfect opportunity.
It's this pack of 372 labels from Cludoo.
When I opened up the sheets of labels I was thrilled! Not only are they good quality, easy to read labels, but I got SO many for such a great price. This pack will easily cover any label needs I may have for my laundry, linen closet and bathroom! Expect to see more of these labels later on in the year. 🙂
Decanting cleaning supplies
While it may be controversial, I love decanting cleaning supplies. Not so much out of function, but out of pure aesthetic.
I've been using these large glass jars for Oxi-Clean and powdered Tide for the last year and they are still going strong. I replaced the homemade labels with new square labels to match everything else in the cabinet and I love the minimalist look.
I had some extra plastic containers that weren't being used and decided to decant my dryer sheets and magic eraser sponges. I cut the magic erasers into thirds to make them last longer since it seems like I only need a small bit at a time and a fresh eraser is much more enjoyable than a dirty used eraser.
And I know it is totally extra (don't feel like you need to go this far!) but I decanted my liquids into some glass containers I had on had.
From left to right, I have Oxi-Clean spray (I just took the label off and added a sticker!), blue Dawn (great for laundry stains), white vinegar and baking soda (both for general cleaning).
I placed these on a clear acrylic turntable that comes with The Home Edit Laundry Edit. It makes it so easy to quickly grab what I need!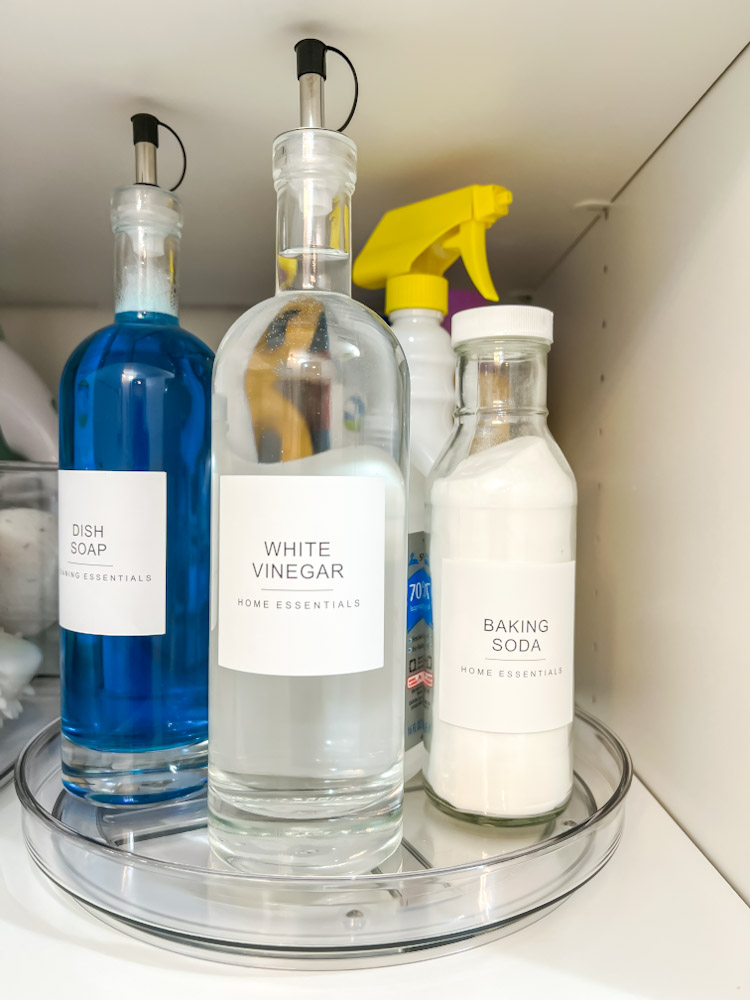 Organizing odd shaped items
On the top two shelves I used Multipurpose Bins from The Container Store to store everything odd shaped. This included party supplies and paper products (think paper plates, plastic cups and party tablecloths). As well as 409 and Windex refill, trash bags and hand soap.
The Multipurpose Bins slide out easily making it easy to pull the whole bin down from the upper shelves. I found that 4 medium bins or 3 large bins fit nicely across each shelf.
Using the full shelf
With deep closets, it's especially important to maximize your storage so as to not let the space in the back go unused!
Since this closet is deep at nearly 24″, I needed to make sure I was effectively using the space in the back. This is where The 10″ deep home edit bins shine! They are the perfect size for placing two deep.
I used these bins to store frequently used items in the front (like the dryer balls and duster) and less frequently used items (like the iron…) in the back. Both bins are labeled but it's really easy to look past the first bin to see what is in the back bin.
On the shelf just below, I used the larger square bins for mop heads and vacuum parts while the front woven bins hold cleaning rags and microfiber cloths.
Laundry baskets and beach towels
The lowest two shelves are dedicated to 3 square laundry baskets that fit perfectly in the deep cabinet as well as a shelf dedicated to beach towels. Having a designated home for laundry baskets means I can keep the top of the dryer clear for folding clothes and towels!
Sources
The Home Edit 5 Piece Laundry Edit
White lidded storage containers
Related Posts:
5 Products that Help me Keep My Small Laundry Room Organized
How To Organize Cleaning Supplies
Thanks for stopping by!
This space has come a long way in only a year and I have to say I'm loving the functionality of this tall cabinet. It serves our family well and dare I say, makes cleaning a much more enjoyable task!
And if you are working on organizing your laundry room and would like a head start, click the link below to download my list of 25 things that you can declutter from your laundry room today. I promise you won't miss any of the items and it will help get you in the mindset to tame your laundry room!
Click here to get my Laundry Room Decluttering Checklist!
Happy organizing!
1