Summer is just around the corner and the school days are getting fewer and fewer. Many of us are gearing up for summer and finalizing plans for camps, vacations, and getting ready for the good old classic family road trip.
Our family absolutely loves to go to the beach in the summer, but the 5 hour road trip to get there? Not so much.
It takes a lot of planning and careful packing to get us from point A to point B, but one of the things I am very focused on getting right is the backseat. Keeping kids happy and organized means a smoother and more enjoyable trip for all.
With that in mind, here are the top 3 products for organizing your car for a road trip with kids:
Why do you need organization on a long car ride?
With so much that needs to be packed for a road trip, organization is essential to help you FIND things quickly and easily. Trust me, no one wants to pull over while driving 70mph on the freeway to dig through a bag in the trunk every time a child has to have their favorite stuffy or needs a snack.
Having tools that help your organize all the stuff you need to bring is critical in keeping the peace on long road trips. Plus, it helps kids be more self sufficient while you are on the road, which is definitely a win!
What are the strategies for packing?
Your strategy for packing and organizing the backseat for kids is to think through the three layers of kid needs:
Hungry – You need snacks, snacks, and more snacks. Nothing keeps a bored child happier than eating snacks. I like to choose a mix of items that aren't too messy, some healthy and some not so healthy. I usually make sure to include some fruit that is fairly clean to eat in the car (think clementine oranges over bananas). And, I also like to bring individually packaged items like granola bars, chips, cracker or rice cakes.
Pro Tip: Having a trash bin that is easily accessible helps control the mess by giving kids a place to put any wrappers, peels or plastic. I like this one and this one.
Bored – Activities are the name of the game! Try to include tech and non-tech activities to keep it interesting. A mix of coloring or activity books, plus mazes and sticker books are great for keeping little hands busy. Water Wow books are mess free, even for the youngest car traveler.
I like to also include tablets or iPads, complete with charging cords, because inevitably we hit that point in the trip where all screen time rules go out the window and we do whatever we need to survive.
Tired – Make sure to include comfort items that can help your child sleep. A favorite lovey and a small blanket can go a long way in making the carseat a comfortable place to take a nap.
Everything in its place
You know the old saying "a place for everything and everything in its place"? Well, this holds true for the backseat as well. Every single items needs to have a designated home or else it is guaranteed to end up on the floor.
Behind the seat organizers have pockets to hold all the little things you need to bring for kids. The clear/mesh pockets make it easy to see where everything is and helps kids feel comforted because they feel surrounded by all their favorite things.
I organized one for my daughter's side and my son's side.
Here's what I included for my daughter:
Hand wipes
Hand Sanitizer
Headphones
Crayons
Penguin soft toy
And here is what I put in my son's:
Tissue packet
Hand sanitizer
Sunscreen
Wood snake
Center Console Organizer
For the space between car seats, look to add a center console organizer for snacks and larger items, like activity books or toys. I like how this one has lots of pockets for extra water bottles and granola bars. The inside has a divider that creates pockets for each type of item and there is even a lid for the organizer if you want to keep things hidden or tucked away.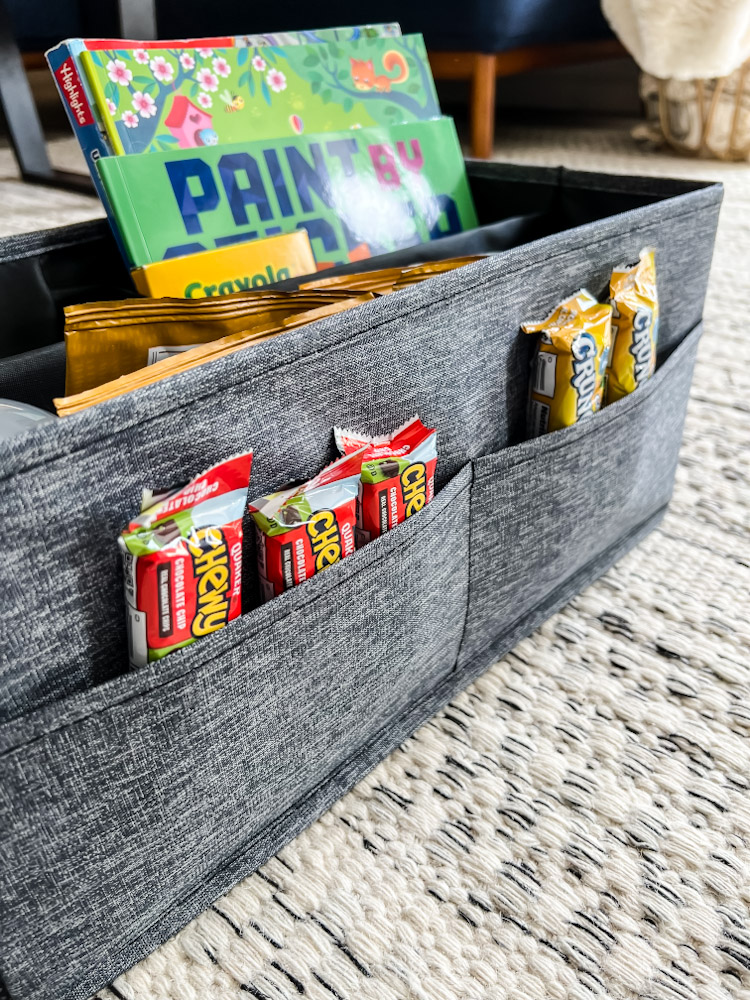 Hopefully these car organization ideas will help you prepare for your next great road tip!
**This post contains affiliate links. That means if you make a purchase through one of my links, I may earn a small commission at no cost to you. Thank you for supporting my blog by shopping my links!
0