It's December and the Christmas season is in full swing at our house. The tree is up, the eggnog is in the fridge and the packages from online shopping are accumulating quickly.
But what do you do with all the shipping boxes full of presents that need to be kept a secret??
Let me tell you, hiding presents in a small house is HARD!
I try to keep gifts a secret, but it can be challenging to find places to hide items, especially big items, when you feel like your house has no storage space.
We don't have an extra bedroom, closet, or attic to hide presents. I can't set up a dedicated wrapping station devoted to wrapping presents as they come in. What I need is quick, easy locations to store both wrapped and unwrapped gifts out of my family's sight.
So what do I do? I get creative and a bit sneaky.
Before the holiday season, I brainstorm locations in my house that aren't being used as frequently as others. This is difficult when you use every.square.inch of your house. However, I can usually think of a few places that my kids aren't currently digging into daily that can discreetly hide a few items. Sometimes this is a box in the garage, under the bed, or even the trunk of the car.
If you are looking around your house wondering where you are going to hide that new Lego set or dollhouse, here are my road-tested, elf-approved, small space hiding spots:
In a closet…but not how you think
Closets are a classic hiding spot for Christmas gifts, however, the goal should be to make it look like there isn't anything unusual in there. Wrapped or unwrapped presents on a closet shelf are a dead give away. Especially if they are completely visible!
If you're trying to be discrete, mix the gifts in with the normal closet contents. For example, store in a non-clear bin in the top of the closet, a laundry hamper, or a basket. Even an unassuming Amazon box can work as a temporary solution.
I've stored them in a box on the floor, in a bin on the top shelf, and my personal favorite, behind the hanging clothes.
Last year, the only thing my son wanted for his December birthday was the giant stuffed bear from Costco. The really, really big one. We had many conversations about how big he was and how small our house was. This bear was literally the size of a small adult.
We tried to persuade him to find another toy. Wouldn't a Lego set be nice? Or a basketball? But all he wanted was that bear. In the end, we caved and decided we would just have to figure out how to make room for it.
My daughter and I picked up the bear at Costco one morning when my son was in school. I don't think I realized exactly how big he was until we got him home.
I had 4 hours to figure out where to hide the bear before my son came home.
While my daughter napped, I raced around my house looking for a place – any place – large enough to stuff the bear. The only location I found was my husband's closet. I was able to sit him on top of the shoe rack and pull the clothes in front to disguise him. I covered his legs with a towel and made sure his brown fur wasn't visible through the clothes.
It was crazy, but it worked. He was completely surprised when we pulled out the giant bear on his birthday.
In an unassuming bin in the garage
Opaque bins are your friends, people. These unassuming bins in your garage can be repurposed to hold presents, stocking stuffers, or anything else you may need to quickly stash on your way home from the store. No one is going to look in the bin marked "Summer" in December. I usually have one or two empty, unlabeled bins that I keep for this purpose. It's been a real lifesaver to have a dedicated place to quickly toss whatever items I'm carrying in the house before my kids come bounding out the door.
My dark grey garage bins are from Target and are a nice, big size. They hold quite a lot and I like that I can have one for wrapped and another for unwrapped presents.
In the attic/basement/shed
Are you lucky enough to have an attic, basement, or shed? Then you are golden! These locations are out of the way and not frequented by small children (or even some adults).
I use our shed when I need to store large presents that are sometimes impossible to wrap. Last year my kids were lucky enough to receive a red Power Wheels Dune Buggy that came in a giant box. The box CLEARLY showed what was inside and was way too big to wrap. I was so thankful we were able to keep it tucked in the shed with a large table cloth covering the box.
Under the bed
Yes, under the bed. Push aside those dust bunnies and find a box that you can't see through. I use a large, flat Target shipping box, but any box will do. I actually use this year-round when I pick up little gifts, toys, books, or other items I may need to keep secret from the kids. My kids have climbed under my bed a few times during a game of hide and seek, but have never pulled the box out to look inside.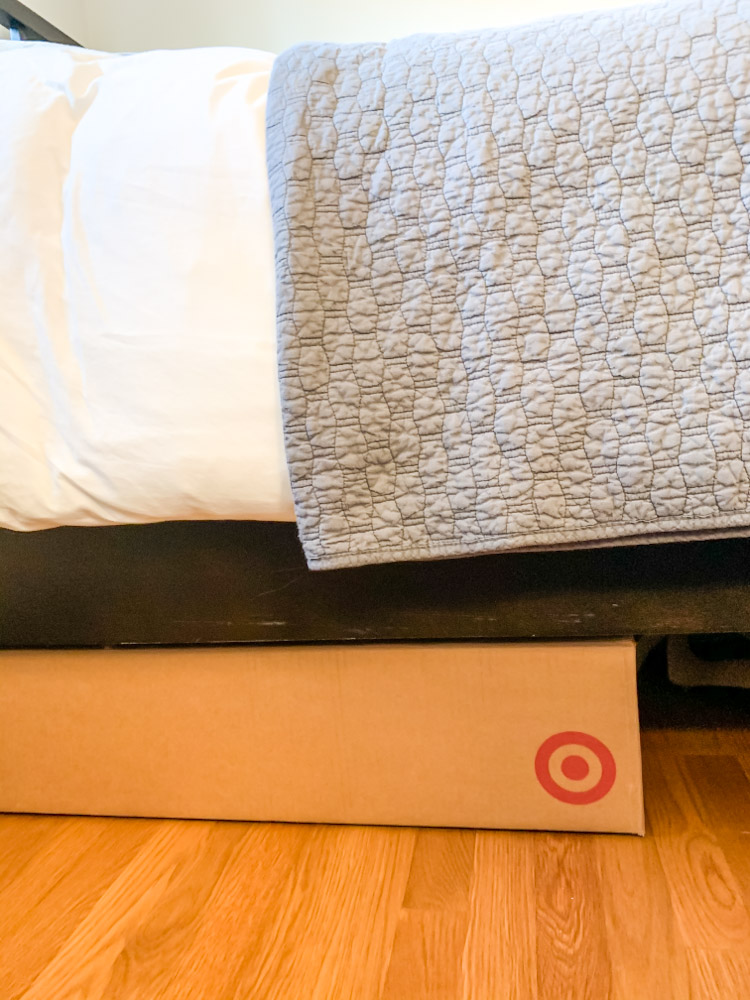 In plain sight (but know your audience!)
For this, you really, really need to know the person you are hiding the gift from. My husband isn't one to go poking around looking for things and doesn't always notice when something is new or out of place. This has worked to my advantage when it comes to hiding his presents.
One year, when we lived in Los Angeles I was able to "hide" a new bicycle in broad daylight on our deck for two weeks without him noticing. It wasn't covered or wrapped. It was just slightly out of sight from the sliding door. He was completely shocked when I rolled it in on his birthday and wanted to know where I had been hiding it. Ha! Obvious places work, just make sure you know the person isn't the nosy type.
And most importantly – keep track of the hidden items!
Yes, write this down somewhere! The holidays are a busy time and you are juggling a lot of information, dates, and to-do lists. There's nothing worse than hiding a present and then not remembering where it is. Or even worse, finding it still hidden in the back of the closet in June!
I keep a detailed record of gift ideas as well as what has been purchased and where it is hidden. This used to be a lot easier when my son wasn't able to read and I could just write it down in a notebook (I'm old school and love a good notebook). But now I have to be more discrete.
I've since switched to just using the notes app on my phone to track gift lists as well as wrapped status and location for each present. It's nice because I always have it on me and can refer back quickly.
In the end, the best tip I have is to think OUTSIDE and INSIDE the box.
Be creative! Think about your house and the locations that kids don't frequently go or look in. Try to figure out how to incorporate larger boxes or bins that can then hold gifts or items until the big day. Look for areas that are already fairly full of items to discreetly squeeze in one or two gifts that no one will notice. Take items out of boxes so they will store more easily. Put items in boxes so you can't see what's in there.
And write it all down so you don't forget. You got this!
For more holiday tips and tricks, come hang out with me on Instagram and Facebook where I'm attempting to stay organized and sane during the month of December.
0