If you added a few (or a lot!) of new holiday decorations to your collection this year, then it may be time to invest in some new storage containers. The right storage containers will protect your decorations and make it easy to organize and store for next year.
I'm very, very picky when it comes to Christmas Storage containers as I have been organizing Christmas decorations yearly since I was probably 7 years old. I've seen which type stand the test of time and which ones don't. And believe me, you want containers that last AND protect your decorations since these things aren't cheap.
What makes a good storage container?
In general, I prefer hard, plastic storage containers with a lid. Preferably in red and green so that I can quickly tell which bins are for Christmas in my dark under the stairs storage area. I also like to buy multiples of the same type of bin for uniformity and better stacking.
I DO NOT like cardboard, fabric or paper boxes. They do not protect your items from water, insects, rodents and anything else that may try to get into your storage container. They also warp easily and do not last. Plastic bins are sturdy enough to stack and will last for many, many years.
Where do you buy Christmas Storage Containers?
Many different stores carry these types of bins around Christmas and the New Year but they are a seasonal item and not available all year. Often the best stock is in store and not online, so be sure to walk into your nearest Target or Walmart to see what they have on their shelves. However, if in store shopping is not in the cards right now, I've rounded up the best storage containers you can buy online.
These containers all pass my quality test and will stand the test of time, ensuring that your holiday decorations are protected for years to come. They are also conveniently available online for shipping directly to your door. No more battling the after holiday shopping crowd!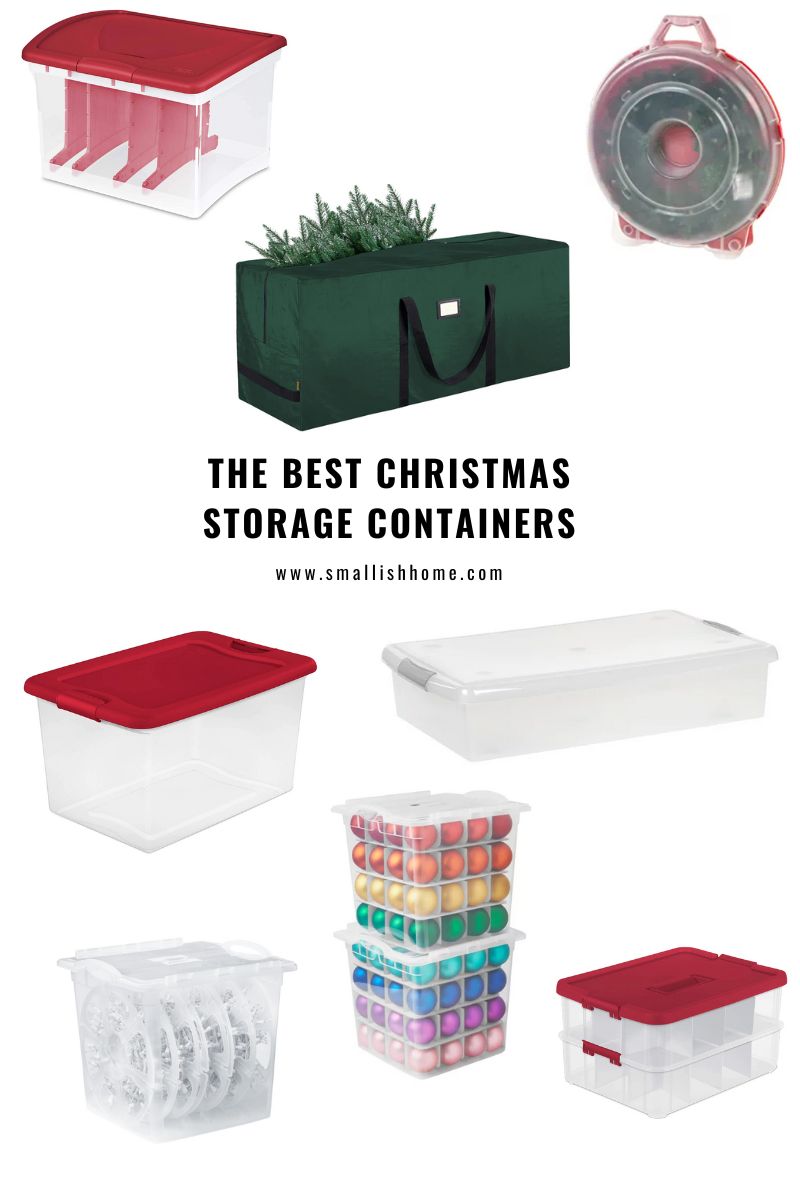 Here are the best Christmas Storage Containers You Can Buy in 2022:
Christmas Tree Storage Bag – For larger trees, or really any tree that no longer fits in its cardboard storage box, a bag is a must have. These are roomy enough to store garland in addition to your tree.
Christmas Light Storage Containers – The reels inside are honestly my favorite part. I have similar light holders and the reels are so helpful for wrapping individual strands of lights to prevent tangling.
Wreath Storage Container – Sturdy enough to prevent crushing or twisting and holds wreaths up to 24″. These are a must have if you have delicate wreaths that don't fit in a general purpose storage box.
Ornament Storage Box – For keepsake, homemade or special ornaments, sturdy plastic bins that stack and lock together are the best option. These allow you to access each layer individually without having to move other ornaments to get to the layer you want.
Clear Plastic Storage Bin With Red Lid – These are great since they are clear (with red lids!) and come as a pack of 6. These are a great size for storing most types of decorations including table top trees, decorative items, mugs, ceramics and linens.
The Home Edit Ornament Bin – The Home Edit line at Walmart comes in at such a great price point. I was excited to see they had Christmas specific storage options including this ornament bin that would be perfect for storing and organizing colored balls.
The Home Edit Light Bin – These bins include round reels for lights and would be perfect for indoor or outdoor lights.
Under The Bed Wrapping Storage – I like to use under the bed storage boxes for organizing and storing wrapping paper. The bins can be challenging to buy online since they are often large, but this one is a good deal from Walmart and can be shipped.
Any of these bins would be a welcome helper when it comes time to take down and store your holiday decorations. The key is to assess what kinds of decor you have and find storage solutions that fit the items you need to store.
And if you need a guide for packing up, storing and organizing holiday decor then be sure to check out my post HERE. This post includes all my best tips and tricks!
Happy Organizing!
0